PLAN YOUR VISIT
STAN & OLLIE
Take a look at the full filmography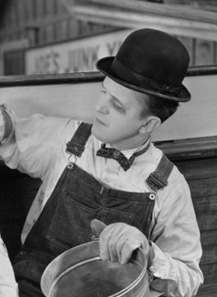 Stan Laurel
Arthur Stanley Jefferson was born in Ulverston, which was then in Lancashire but now lies in Cumbria, on the 16th of June 1890 the second of five children to theatre owner Arthur Jefferson and Actress Margaret Jefferson (nee Metcalf) in his Grandparents house, on a small terrace called Foundry Cottages, the name being later changed to Argyll Street.

Stan, unlike the rest of his siblings stayed in Ulverston with his grandparents until he was six, before entering education in Gainford. Stan later went to school in Bishop Auckland, Tynemouth and finally Glasgow where he completed his education at the first possible opportunity and went to work for his father in the Metropole Theatre, in the box office.

Stanhowever had other things in mind and when he was 16 he approached Mr Albert. E. Pickard for a 'try on' in his theatre / side show / museum. Stan got a try and as he looked out at the audience on that first night saw his dad at the back of the hall.

The act went down reasonably well and Stan was on top of the world. Until the realisation hit him, he was going to have to face his father who wanted Stan to go into theatre management. 'A. J.', as it turned out, whilst not exactly encouraging was not as set against the idea as Stan had thought and, in 1907 Stan entered the first of a number of travelling groups at the grand salary of one pound a week.

Later, Stan joined Fred Karno's travelling performers (known to some as Fred Karno's Barmy army) as a bit player and eventually understudy to Charlie Chaplin. In 1910 after successful tours all over Britain the troupe went to America. It was here that Stan, after leaving the group started to write his own material and, along with some other actors who had left with him started touring with his own acts.

Around this time Stan had started to use his own name, shortened to Stan Jefferson, which he noticed had thirteen letters in it. Being mildly superstitious he decided to change his last name to Laurel.

In 1917 Stan was offered a movie to be called Nuts in May, which led to a number of other films for Universal until a reorganisation meant that his contract was not renewed, forcing him back to the stage until he got the opportunity to work with Hal Roach. Stan acted in, wrote gags for, and directed many films for roach, including The Lucky Dog in around 1920 in which he co-starred with Oliver Hardy.

Laurel and Hardy later became a team and worked with each other until 1950 making over one hundred films and hundreds of thousands of people laugh.
Read More...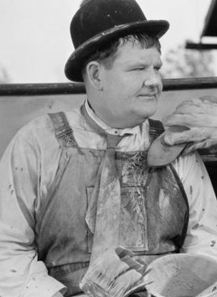 Oliver Hardy
Norvell Hardy was born on the 18th of January 1892 in Harlem, Georgia barely 11 months before his father's death. His mother, Emily moved to Madison, then on to Atlanta before settling in Milledgeville where she took over the running of the Baldwin Hotel, it was here that Norvell took up the habit he later referred to as 'lobby watching', observing the guest's mannerisms and characters.
When he was eight years old Norvell ran away from home to join a minstrel group and although he soon returned home the love of performing never left him, neglecting school and running errands for the guests at the hotel he saved money to go to see shows. His mother sent him to military school from which he promptly ran away to Atlanta in 1906.
Norvell's mother soon caught up with him but he would not go back to school so she let him stay on in Atlanta to study singing. Even this was not enough and he started singing to slides in a movie house for fifty cents a day.
In 1910 Norvell opened the first movie theatre in Milledgeville and ran it until 1913 when he heard about some film makers in Florida and moved to Jacksonville. In Jacksonville, Norvell sang in the evenings and spent his days following film crews in the hope that he might get some work. One day the crew needed a 'heavy' for a film and as Norvell had been around for a while he was hired to work for Lubin.
Apart from two stints in New York Norvell worked in Florida until in 1918 he heard of the film boom in California and moved there, working with amongst others Larry Semon and eventually Hal Roach where, after adding the Oliver to his name, played many more comic 'heavy' roles and met a young comedian named Stan Laurel, working with him until 1950.
Read More...
Filmography
1917
The Lucky Dog

1926
Forty-Five Minutes From Hollywood

1927
Duck Soup, Slipping Wives, Love 'Em and Weep, Why Girls Love Sailors, With Love and Hisses, Sugar Daddies, Sailors Beware!, The second Hundred Years, Now I'll Tell One, Call of the cuckoos, Hats Off, Do Detectives Think, Putting Pants On Phillip, The Battle of the Century

1928
Leave 'Em Laughing, Flying Elephants, The Finishing Touch, From Soup To Nuts, You're Darn Tootin', Their Purple Moment, Should Married Men Go Home?, Early to Bed, Two Tars, Habeas Corpus, We Faw Down

1929
Liberty, Wrong Again, That's My Wife, Big Buisness, Unaccustomed As We Are, Double Whoopee, Berth Marks, Men 'O' War, Perfect Day, They Go Boom, Bacon Grabbers, The Hoose-Gow, The Hollywood Review of 1929, Angora Love

1930
Night Owls, Blotto, Brats, Below Zero, The Rouge Song, Hog Wild, The Laurel and Hardy Murder Case, Another Fine Mess

1931
Be Big, Chickens Come Home, The Stolen Jools, Laughing Gravy, Our Wife, Pardon Us, Come Clean, One, Good Turn, Beau Hunks, On the Loose

1932
Helpmates, Any Old Port, The Music Box, The Chimp, County Hospital, Scram!, Pack up Your Troubles, Towed in a Hole, Their First Mistake

1933
Twice Two, Me and My Pal, Fra Diavolo, The Midnight Patrol, Busy Bodies, Wild Poses, Dirty Work, Sons of the Desert

1934
Oliver the Eighth, Hollywood Party, Going Bye Bye, Them Thar Hills, Babes in Toyland, The Live Ghost

1935
Tit for Tat, The Fixer Uppers, Thicker Than Water, Bonnie Scotland

1936
The Bohemian Girl, On the Wrong Trek, Our Relations

1937
Way Out West, Pick a Star

1938
Swiss Miss, Block Heads

1939
The Flying Deuces

1940
A Chump at Oxford, Saps at Sea

1941
Great Guns

1942
A-Haunting we will Go

1943
Tree in a Test Tube, Air raid Wardens, Jitterbugs, The Dancing Masters

1944
The Big Noise

1945
Nothing But Trouble, The Bullfighters

1951
Atoll K
PLAN YOUR VISIT
OPENING & PRICES
Opening hours and admission prices
Admission Prices
Adults
£5.00

Concession
£4.00

Children
£2.50

Family Ticket
£10.00
(Family Ticket consists of Two Adults and up to Three Children U16)

Annual Passes
Adult
£12.00

Concession
£10.00

Family
£25.00
Opening Times
10:00 AM - 5:00 PM 7 Days Per Week
We're pleased to announce that the museum is now available for to hire in the evenings, contact us for more info or see Nights at the Laurel and Hardy Museum on Facebook to check out what's on.
PLAN YOUR VISIT
LOCATION
How to find us
Turn off the M6 at Junction 36, follow the A590 to Barrow in Furness, which will bring you to Ulverston. The easiest car park is situated on the roundabout at the entrance to the town. From the car park, we are a short walk up the cobbled street, past Gillam's Tearoom, turn left at Costa Coffee onto Brogden Street. Our entrance is at the front of the Roxy Cinema, look out for the smiling Stan, you can't miss us!


Ulverston has trains coming in from Manchester, Lancaster, Preston and Barrow in Furness. Check out the link below to plan your journey:
www.tpexpress.co.uk/train-tickets-and-rail-offers/advance-bookings.htm

From the station it's a 10 minute walk, all you do is turn left out of the station road, turn right at the traffic lights and keep walking and we are on the left.


There are several local services from Kendal, Barrow In Furness, Coniston and other local towns. Please check with the Stagecoach website for times and services:
www.stagecoachbus.com/northwest/index.html

The bus station is less than 5 minutes walk, head towards the Traffic lights turn right and we are there on the left side of the road.


There is ample parking in Ulverston town centre with several Pay and Display car parks all within 5 minutes walk. Parking on the street is usually limited to 1 hour unless you have a parking permit (local residents only).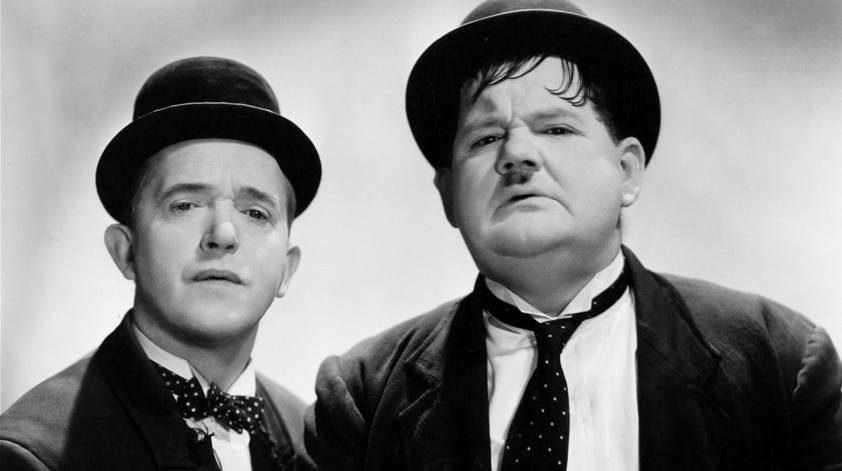 10 Dec 2018 - 23 Dec 2018
Ulverston Dickensian Festival

£15 per person

Laurel and Hardy Museum
The Roxy
Brogden Street
Ulverston
Cumbria
LA12 7AH

http://laurelhardy.co.uk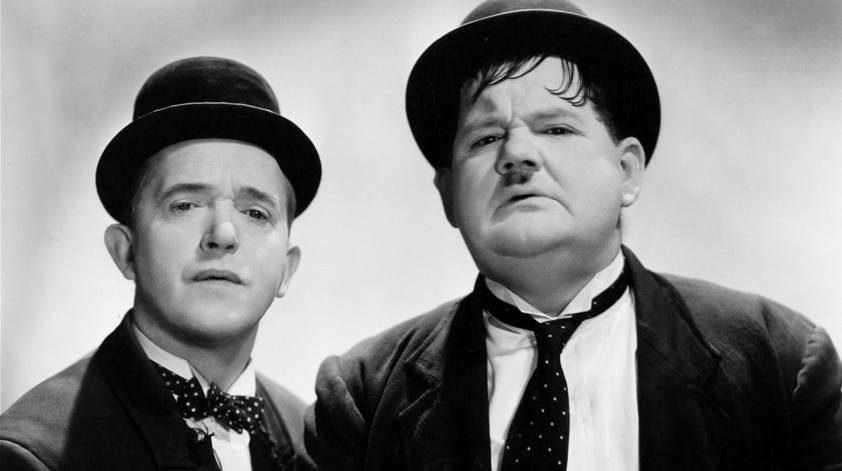 10 Dec 2018 - 23 Dec 2018
Ulverston Dickensian Festival

£15 per person

Laurel and Hardy Museum
The Roxy
Brogden Street
Ulverston
Cumbria
LA12 7AH

http://laurelhardy.co.uk